When my son was a baby, I was given a knitted baby overall that my granny had made me back in 1982. It was perfect for my son that had just learned to move around. It kept him warm – it was a bit chilly at floor level – yet wasn't too hot because it didn't have sleeves.
I was inspired by this garment and started knitting my son another one, in lighter weight yarn. I wasn't able to choose colors, so I ordered a Wollmeise surprise set of two skeins. I ended up with purple and blue, colors that suited my son's skintone very well.
Since my husband was working a lot back then, I didn't have much knitting not to mention designing time, and the overall was finished a bit before my son's first birthday. The pattern, in turn, was finished two years after I had started! Later on I revised it and added a third size.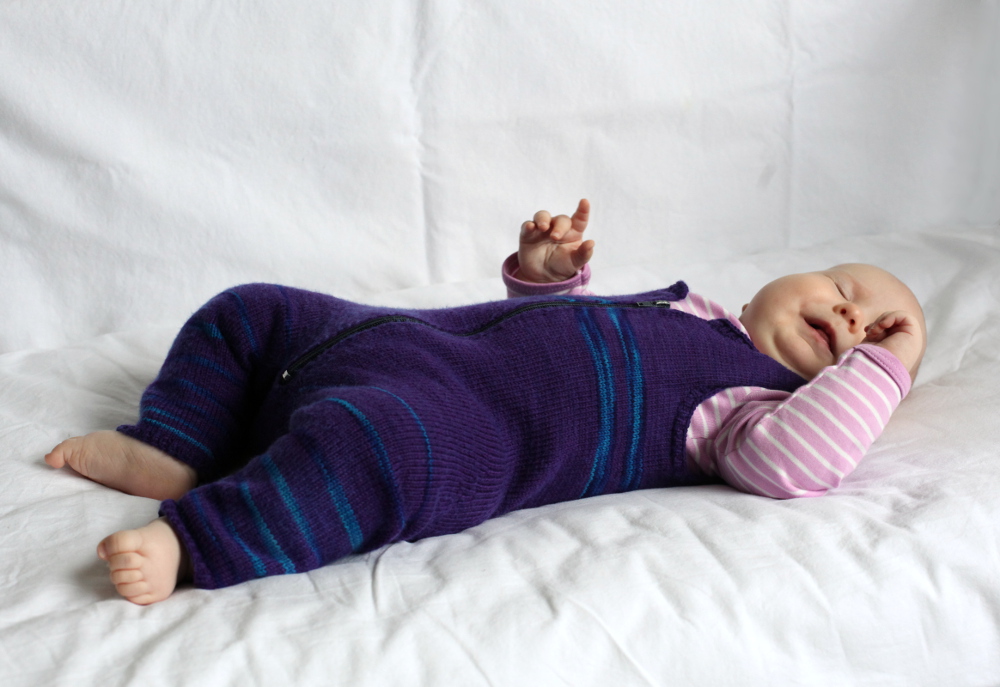 The baby in the photo is my daughter. When the purple Valentino got too small for her, I made another one, also in Wollmeise. There is a third one, too, waiting for her to grow a bit more.
Now I'm happy to announce that the pattern is available for free. There are instructions for making sleeves, as well. There is an image with measurements of the garment, making it possible to finish the garment even with another gauge. The sizes available are 70 cm = 6 to 8 months, 80 cm = 12 months and 90 cm = 24 months. (The centimeter sizes mean the actual height of the child.)